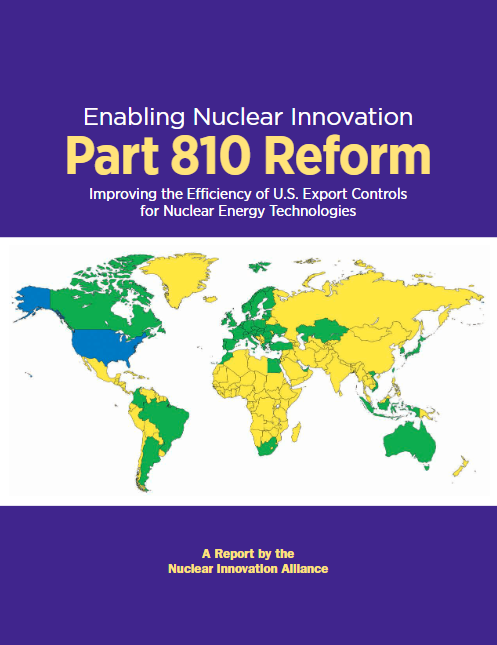 December 2017
WASHINGTON – The Nuclear Innovation Alliance (NIA) today released recommendations to improve the efficiency of U.S. export controls for nuclear energy technologies. The report makes recommendations to the federal government and industry on how to better enable the international flow of unclassified nuclear energy assistance and technology to help address global energy challenges and enable commercial opportunities.
"Nuclear plant construction is booming outside of the United States and Europe," said Ashley Finan, NIA policy director. "It is in the national interest of the United States to play a role in these developments to support nuclear innovation, and this requires efficient access to international markets."
Companies seeking to work in international nuclear markets have seen the time required to undergo the current 10 CFR Part 810 (Part 810) authorization process nearly quadruple since 1990. The U.S. government currently takes an average of 400 days to process applications for export under Part 810, up from 130 days in 1990. Industry representatives have recently stated that this slow process significantly impacts commercial competitiveness. 
"Improving U.S. regulatory efficiency will aid in nuclear energy innovation, providing major commercial opportunities while supporting responsible host nation oversight and helping to address global greenhouse gas emissions," said Matt Bowen, author of the report. "Our report notes that there are several ways to improve the performance of Part 810 by drawing on nuclear export control practices elsewhere in the federal government."
Currently, the Secretary of Energy signs off on even minor actions under Part 810, adding a substantial amount of time to the process.  By contrast, the Commissioners at the Nuclear Regulatory Commission (NRC) do not see every export application for materials and equipment, and in general the NRC's Part 110 regulations have a more risk-informed structure than Part 810.
The NIA's Part 810 recommendations call for:
The Department of Energy (DOE) to institute a new fast track approval process for specific technologies and destinations;

The White House to issue an Executive Order affirming the importance of an efficient export control process and directing steps in that direction;

The Secretary of Energy to revert to the previous - and more efficient - parallel processing structure for applications under Part 810;

The DOE's Offices of Nuclear Energy, Nonproliferation and Arms Control, and Intelligence to produce a classified study on nuclear energy technology transfers to China;

The DOE and Congress to enable delegation of authority for actions under Part 810 by the Secretary of Energy; and

Industry to engage in pre-applications activities with the DOE and to create an industry forum for sharing of Part 810 experiences to improve the quality of applications submitted.
To download a copy of the report, please visit the NIA website.
###
 
About the Nuclear Innovation Alliance
The Nuclear Innovation Alliance (NIA) leads advanced nuclear energy innovation. We assemble companies, investors, experts and stakeholders to advance nuclear energy innovation and enable innovative reactor commercialization through favorable energy policy and funding. We research, develop and advocate policies that enable the efficient licensing and timely early-stage demonstration of advanced reactor technologies. Learn more about NIA at http://www.nuclearinnovationalliance.org/ and on Twitter at @theNIAorg and Facebook at www.facebook.com/theNIAorg.